Using Chrome
Click Connect to bond with your MetaMask Address
Click Claim to claim your PHA.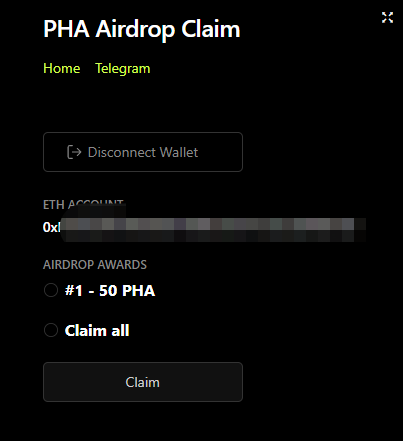 Using imtoken on Phone
Open imtoken
Go to imtoken Dapp Explorer
Open https://award.phala.network/
Click Connect
Click Claim to claim your PHA.
It works the same way on other wallets with DApp explorers.
---
FAQ
1. Why can't I see my rewards?
The reward list data is downloaded from IPFS and there could be network issue. Please try again later.
If it's not working for over 30 minutes, please send your screenshots to @ylylenlen in Telegram: Contact @phalanetwork.
2. Why I can't see PHA after claiming?
Please make sure you have added PHA as one of the assets in your wallet.
3. What if I didn't use imtoken address to submit for PHA rewards?
You can try other DApp explorers as well, but they might not work.
So we recommend you to import your addresses into imtoken Wallet.