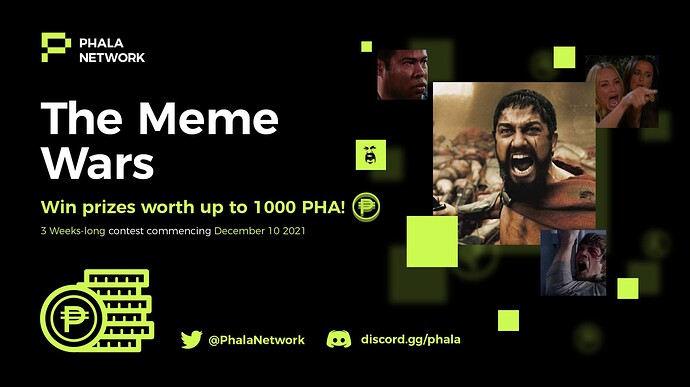 GM Phamily!
Cryptocurrencies and blockchain in general can never have a dull moment. We, at Phala Network, are going through a very exciting phase in the development of the project and want our community to be at the core of our success.
Not long ago we had a Sticker Contest, which was a roaring success. To spice things even further we're kicking off a 3 week long Meme Contest starting on December 10 2021.
This is your opportunity to show your love for the Phamily. Do you have what it takes to impress our community?


Criteria:
Meme(s) must be relevant to Khala / Phala Network

Share your meme(s) on BOTH the Phala Discord ,#meme-war channel as well as on Twitter with the #phalamemeweek hashtag and $PHA cashtag

Multiple entries are welcome but participants are limited to ONLY 1 bounty

Content must be in English ONLY

Ensure your meme(s) show Khala / Phala in positive light and do not contain any offensive or explicit content (i.e., NSFW)

Pro tips:
Consider using Khala / Phala brand assets (logos, colour palettes, fonts etc.)

Original content is encouraged (plagiarized entries may be disqualified)
Consider creating content relevant to the time of the year (i.e., Christmas, New Year, etc.)

Consider sharing your meme(s) to as many social media platforms as possible and use other hashtags to make your content go viral!

Format:
Any popular photo format (JPEG, PNG, GIF)

Must be clear and legible across all devices

Dates:
This will be a 3 week long contest starting from December 10 2021 (00:00 UTC). Entries after December 30 2021 (23:59 UTC) will be invalidated. Voting will take place alongside the contest and will extend until January 1 2022 (23:59 UTC).

Reward bounties:
3 prizes for the best memes (Awarded by Phala ambassadors)

1st Bounty: 300 $PHA

2nd Bounty: 200 $PHA

3rd Bounty: 100 $PHA
That's not all. We've also decided to giveaway juicy bounties for community voted memes too!

Most upvoted meme on our Meme Discord channel: 200 $PHA

Meme that gets the most traction on Twitter (likes, retweets, comments): 200 $PHA
Winners will be announced on our Discord Server shortly after voting ends!

Brace yourselves Phamily, memes incoming!

2021-12-10T00:00:00Z → 2021-12-31T00:00:00Z