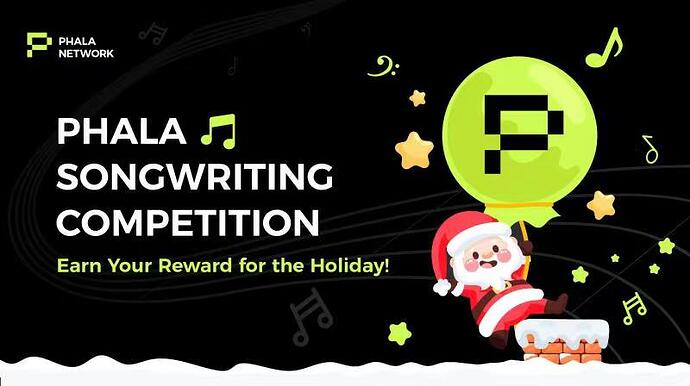 GM Creative minds of Phamily! Come and create your Phala anthem and earn rewards for the holiday season. Welcome to participate in the Phala Songwriting Competition! Don't worry if you do not have a music background, the rules are simple:

To participate, you can choose from the challenges below:
Challenge 1: Pick a line of lyrics and rewrite it with Phala related content (music is not required)
Challenge 2: Pick a song and recompose it with Phala related content (with or without music)
Challenge 3: Create your own Phala anthem with the music of your choice! (The most challenging)

Criteria:
Share your work on Twitter with the #phalaanthem hashtag and $PHA cashtag

Ensure your creation shows Khala / Phala in a positive light and do not contain any offensive or explicit content

Pro tips:
Consider using a widely known song and creating content relevant to the time of the year (i.e., Christmas, New Year, etc.)

Original content is encouraged (plagiarized entries may be disqualified)

Consider sharing your creation to as many social media platforms as possible and use other hashtags to make your content go viral!

Format:
For song creation- Any popular audio format (MP3, MP4)

For lyrics recomposition- Post your lyrics in a tweet with the required hashtags

Dates:
This will be a 10 days long event starting from December 22, 2021 (10:00 UTC). Entries after Dec 31, 2021 (23:59 UTC) will be invalidated. Voting will take place alongside the contest and will extend until January 5, 2022 (23:59 UTC).

Reward bounties:
3 prizes for the best songs (Awarded by Phala ambassadors and team)

1st Bounty: 400 $PHA

2nd Bounty: 300 $PHA

3rd Bounty: 200 $PHA

Song composition (without music) that gets the most traction on Twitter (likes, retweets, comments): 50 $PHA

Lyrics rewrite that get the most traction on Twitter: 50 $PHA

Winners will be announced on our Twitter before Jan 7!